In another Norwich University first, an Educational Partnership Agreement has been signed with U.S. Cyber Command.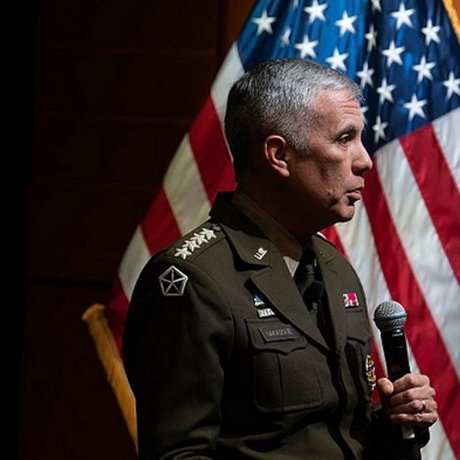 On Wednesday, November 8th, Norwich University signed an Educational Partnership Agreement with U.S. Cyber Command. 
This agreement coincided with a visit from General Paul Nakasone, Commander, U.S. Cyber Command and Director, National Security Agency (NSA)/Chief, Central Security Service (CSS), who had taken the trip to Northfield to present to Norwich students and tour the university's facilities.
"This Educational Partnership Agreement with U.S. Cyber Command is a powerful moment for Norwich," said Norwich University President Mark Anarumo. "Norwich being included among such a small and elite group sharing an Educational Partnership Agreement with U.S. Cyber Command further demonstrates our status as a premier cyber university. The formal agreement will help deliver new and exciting opportunities for our students, faculty, and staff, and will ensure our university will continue to create the leaders needed in fields of increasing relevance in the 21st century.
U.S. Cyber Command (USCYBERCOM) and Norwich University enter into the Educational Partnership Agreement (EPA) in recognition of the importance of education to the future and economic well-being of the nation, as well as the importance of CYBERCOM to the educational institutions of the United States. The EPA was initiated and coordinated by Dr. Sharon R. Hamilton, Norwich University Vice President of Strategic Partnerships and she will serve as the CYBERCOM EPA Program Manager. Dr. Hamilton stated:
Dr. Hamilton stated:
"We are honored and excited to sign a Cyber Command EPA. This EPA supports the Norwich DoD Cyber Institute program to build a pathway for our students to pursue DOD careers and provides Norwich faculty, staff, and students additional opportunities to engage and participate at CYBERCOM events, available summer internships, and the CYBERCOM Cyber Recon Program."
This EPA aims to create an educational and research partnership between CYBERCOM and Norwich University, formalizing Norwich University's relationship with the CYBERCOM Academic Engagement Network (AEN). 
"At U.S. Cyber Command, we recognize our most valuable asset is our people," said Rear Admiral Dennis Velez, Director of Plans and Policy, U.S. Cyber Command. "We are excited about entering into our first ever education partnership agreement with Norwich University. We continue to evolve our Academic Engagement Network (AEN) to inspire the future cyber workforce and enlist their research on our most critical challenges." 
In January 2022, Norwich was accepted as one of the first universities in the CYBERCOM AEN. In the fall of 2022, a team of five Norwich students were selected for the inaugural CYBERCOM Cyber Recon Program on their research on "Russian Misinformation during Elections." After receiving mentoring from Norwich Leahy School Lecturer Ms. Kristin Hayes and coaching from CYBERCOM subject matter experts, the Norwich students traveled in April 2023 to the Dreamport facility in Linthicum, MD and presented their research findings to senior CYBERCOM leaders.
Building on the initial Norwich success, two Norwich student teams were recently selected to present their research at the 2024 CYBERCOM Cyber Recon event. Among the selected student researchers are John Hedley, Electrical and Computer Engineering major, and Brendan C. Coyne, Computer Security and Information Assurance major with Leadership, Criminal Justice, and Pre-med minors. 
Student John Hedley stated:
"The opportunity to present my research in information warfare allows me to help shape the future of cybersecurity. I will get to meet with professionals in cybersecurity and create future opportunities for careers in cybersecurity and information warfare. This is the exactly type of experience I came to Norwich for." 
Student Brendan Coyne stated:
"Undergraduate research opens the door between interest in the topics discussed in my classes now and the potential to explore further. Acceptance to CYBERCOM's Cyber Recon program is a significant moment for me as it gives me the opportunity to show the US Government that I am an asset to them. Further, it allows me to work with a successful faculty advisor and gain research experience."
"It's hard to overstate the importance of the EPA between Norwich and U.S. Cyber Command," said Director of the Leahy School of Cybersecurity & Advanced Computing, Dr. Michael Battig. "Since our focus is to train future leaders to serve the nation through an experiential learning model, this agreement dovetails perfectly with the mission of both organizations.  The opportunities presented in the agreement are game changers for our students and faculty."
Also included in the EPA, CYBERCOM is authorized to: make laboratory personnel available to teach science courses or to assist in the development of science courses and materials for Norwich; cooperate with Norwich faculty in developing a program under which students may be given academic credit for work on defense laboratory research projects; and provide academic and career advice and assistance to Norwich University.
Norwich University Provost and Dean of Faculty Dr. Karen Gaines is excited for the future after signing the EPA. "The ability for an institution of higher learning to gain the trust of a defense laboratory to invest into an EPA shows a level of distinction that we take very seriously," she said. "The partnership with the U.S. Cyber Command will encourage and enhance our ability to give our students the competencies they need to support the DoD mission. Likewise, as a Senior Military College known for excellence in cybersecurity, and information dominance Norwich University supplies a unique blend of opportunities for U.S. Cyber Command to send fellows to work within our Centers of Excellence."
***
About Norwich University
Norwich University is a diversified academic institution that educates traditional-age students and adults in a Corps of Cadets and civilians. Norwich offers a broad selection of traditional and distance-learning programs culminating in baccalaureate and graduate degrees. Norwich University was founded in 1819 by Captain Alden Partridge of the U.S. Army and is the oldest private military college in the United States of America. Norwich is one of our nation's six senior military colleges and the birthplace of the Reserve Officers' Training Corps (ROTC). www.norwich.edu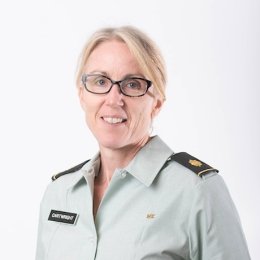 Dr. Natalie Cartwright, Associate Professor of Mathematics, has been awarded a $620,611 grant from the National Institute of Health's (NIH) AIM-AHEAD program. "The rapid increase in the volume of data...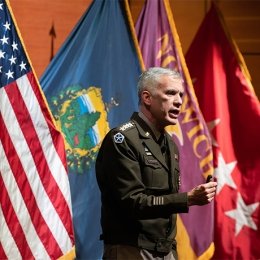 Norwich University is known for its ability to send leaders out into the world, but on Wednesday, Norwich 8, welcomed a world-renowned military leader through its doors when General Paul Nakasone walked onto campus. Later, another Norwich University first was announced after the university signed an Educational Partnership Agreement with U.S. Cyber Command (CYBERCOM).
Senator Patrick Leahy and his wife Marcelle visited the campus of Norwich University and the Senator Patrick Leahy School of Cybersecurity and Advanced Computing on November 16, 2023.