Todd Lecture Series
Since 2008, the Todd Lecture Series has brought revered, provocative and surprising speakers to campus in spring and fall. Free and open to all.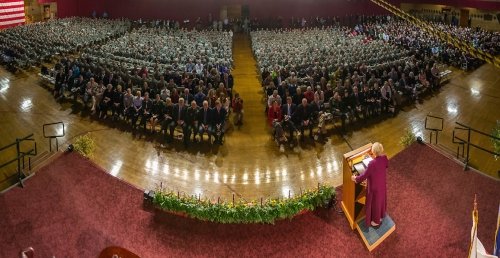 The Todd Lecture Series is named in honor of US Army retired Major General and Norwich President Emeritus W. Russell Todd '50 and his late wife, Carol, in gratitude for their dedicated service to Norwich University and the Northfield community. 
The series is funded by a generous donation from Ellen and John Drew, the Todd's daughter and son-in-law, and the Drew Foundation. The series aspires to serve not only the Norwich University campus community but also residents of Central Vermont and beyond.
The views expressed by presenters and guest speakers are those of the presenter/speaker and do not necessarily reflect the position or policy of Norwich University.
For More Information
(802) 485-2633
2023 Todd Lecture Series Presentation
A Todd Lecture Series presentation by Marene N. Allison, Vice President, and Chief Information Security Officer for Johnson & Johnson, was the headline and keynote address at the 2023 inaugural Norwich University Leadership Conference, with the theme of Championing Change and Transformation, held on April 10 to April 11. .
Marene N. Allison
Ms. Allison is responsible for protecting the Information Technology (IT) systems and data worldwide through elimination and mitigation of cybersecurity risk. This includes ensuring that the J&J information security posture supports business growth objectives, protects public trust in the J&J brand, and meets legal/regulatory requirements. With 265 companies in 60+ countries, J&J is a leader in consumer health, pharmaceutical products, and medical devices worldwide.
 
Prior to 2010, she was Chief Security Officer and Vice President for Medco, where she oversaw all aspects of security and regulatory compliance. As head of Global Security at Avaya, Allison secured the World Cup network in Korea and Japan in 2002. She also worked as Vice President of Loss Prevention and Safety for the Great Atlantic and Pacific Tea Company. Before that, she was an FBI Special Agent, working on undercover drug operations, terrorist bombings, and a mock nuclear terrorism exercise.
 
Allison has a Bachelor of Science degree from The United States Military Academy at West Point in the first class to include women. She has served in the US Army in the Military Police, as well as on the Defense Advisory Committee on Women in the Services and the Overseas Security Advisory Committee. She is a founding member of West Point Women and currently serves on their Board of Directors. She is also on the Board of Directors for H-ISAC (Health Information Sharing and Analysis Center) and ASIS International. She is married, has a son, a wonderful daughter-in-law and grandson, and lives in Bucks County, Pennsylvania.