Non-Degree and High School Student Programs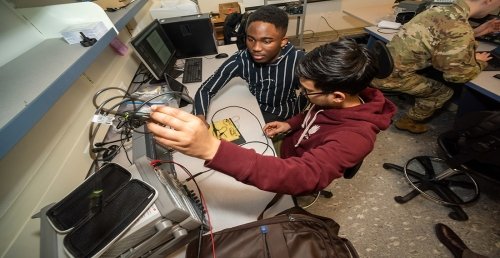 High school students looking for an academic challenge. Adult learners looking to continue a life-long pursuit of knowledge, but not interested in earning a degree. Professionals needing to finish of a few pre-requisites before beginning a Master's degree program. There are many reasons why you may want to take classes from Norwich, but not enroll in a degree granting program. Don't worry – we can help you get the courses and credits you need.
Non-degree Seeking Students at Norwich University
Non-degree seeking students, also known as non-matriculating students, are those students who want to take courses at Norwich, but are not currently seeking a degree from us.  This includes Norwich faculty, staff and their immediate family members using the tuition benefit to take some classes, but who are not seeking admission to a degree program.  Credits earned by non-degree seeking students will be reflected on the student's permanent NU transcript
---
Exchange Students
If you are an exchange student, or if you are a domestic student seeking to take part in one of Norwich's Summer Abroad programs (i.e. Maymester), please contact the Norwich International Center at international@norwich.edu or 1 (802) 485-2934 for instructions on how to apply.
---
Vermont High School Students
If you are a high school student in the state of Vermont and are interested in taking classes at Norwich prior to graduating from high school, you may be eligible for the Flexible Pathways Program. For more information, visit our Flexible Pathways web page prior to applying as a non-degree-seeking student.
---
Deadline: Rolling Admissions
Eligibility requirements:
Program Notes:
---
How to Apply
Prior Attendees: Students who have previously attended on-campus courses at Norwich, complete the Registration Form available from the Registrar's Office here:
Non-Prior Attendees: Students who have not previously attended on-campus courses at Norwich:
---
Contact Information
If you have general questions about taking courses at Norwich University as a non-degree seeking student, or are interested in applying, contact the admissions office at admissions@norwich.edu or 1 (802) 485-2001.
If you have questions about taking Summer School courses at Norwich, please contact the Summer School Coordinator at nusummerschool@norwich.edu or 1(802) 485-2354.
If you are a Prior Norwich Attendee and have questions about registering for additional courses, contact the Norwich Registrar's Office at registrar@norwich.edu or 1 (802) 485-2035.