Norwich University celebrated Veterans Day with events on Friday and Saturday
Norwich University spent Friday and Saturday of this weekend celebrating Veterans Day to thank all who have served or are currently serving. A Veterans Day observance ceremony was held on Friday, while events throughout the day Saturday marked the holiday weekend.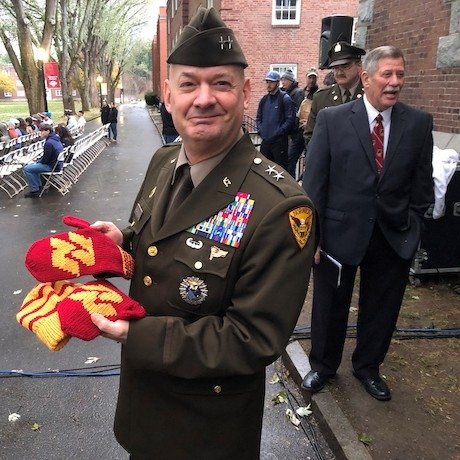 Friday's observance ceremony was held on the Upper Parade Ground and featured a host of notable guests. A representative from the office of Sen. Bernie Sanders read a letter penned by the senator and was presented with handmade gifts of mittens and a winter hat by Norwich President Mark Anarumo to be delivered to the Senator. The gifts were made by Cadet Makayla Marrs, the regimental Command Sergeant Major in the Norwich University Corps of Cadets, as part of "Operation NU Mittens." The Arkansas native and Bedford (Mass.) High School graduate is the current Wing Commander for the Air Force ROTC detachment at Norwich and will commission as a Cyberspace Warfare Officer immediately after graduation in April.
A speech from U.S. Navy RADM John Gumbleton '89 followed, in which he reminded the crowd why it is important for him to be back at home on The Hill and why we must continue to have such observances:
"As the birthplace of America's Reserve Officer Training Corps, Norwich has graduated thousands of leaders for our military over the last 204 years. It would be difficult to overstate the value our graduates have played in building our military into the greatest force in the history of the world. And so, it's appropriate for us to commemorate their service … to celebrate their dedication and to honor their sacrifice.

At the strategic level, our graduates have played a role shaping key decisions that directed our country's course. But at the tactical level, individuals took action, sometimes in mere seconds, that resulted in massive, substantial changes in the direction of an engagement that ultimately changed the tide of war; and so, it's with pride and reverence that their story must be told and passed on. Despite time's march onward, we must not let the actions of our heroes pass out of our common experience."
Following Friday's formal observance, Saturday was filled with celebration. Spectators at the football game were treated to a flyover by a U.S. Coast Guard plane before kickoff, and at halftime, there was a joint ROTC Contracting Ceremony which included three football players still in uniform.
The festivities continued at the hockey game. Cadet Logan Brenneman, a member of Norwich's specialty Army ROTC's Mountain Cold Weather (MCW) Company, rappelled from the rafters to deliver the ceremonial puck. After taking the ice in their camouflage uniforms, the men's hockey team defeated Johnson & Wales University by a score of 6-0 to put an exclamation point on the end of Veterans Day weekend.
***
Norwich University is a diversified academic institution that educates traditional-age students and adults in a Corps of Cadets and as civilians. Norwich offers a broad selection of traditional and distance-learning programs culminating in baccalaureate and graduate degrees. Norwich University was founded in 1819 by Captain Alden Partridge of the U.S. Army and is the oldest private military college in the United States of America. Norwich is one of our nation's six senior military colleges and the birthplace of the Reserve Officers' Training Corps (ROTC). https://www.norwich.edu. 
Additional Images from the Weekend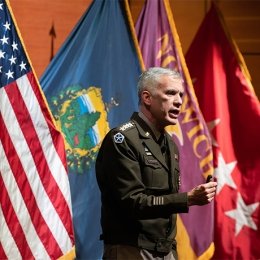 Norwich University is known for its ability to send leaders out into the world, but on Wednesday, Norwich 8, welcomed a world-renowned military leader through its doors when General Paul Nakasone walked onto campus. Later, another Norwich University first was announced after the university signed an Educational Partnership Agreement with U.S. Cyber Command (CYBERCOM).
Senator Patrick Leahy and his wife Marcelle visited the campus of Norwich University and the Senator Patrick Leahy School of Cybersecurity and Advanced Computing on November 16, 2023.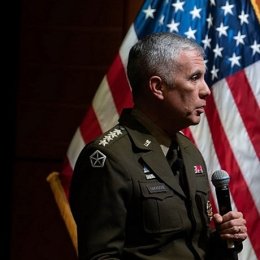 On Wednesday, November 8th, Norwich University signed an Educational Partnership Agreement with U.S. Cyber Command. This agreement coincided with a visit from General Paul Nakasone, Commander, U.S...