WNUB 88.3 FM—Dog River Radio
Norwich University's student radio station, WNUB 88.3 FM—Dog River Radio—celebrated 50 years on the air in December 2017. Established in 1967, WNUB-FM provides a training ground for Communications students interested in pursuing careers in radio broadcasting and audio production.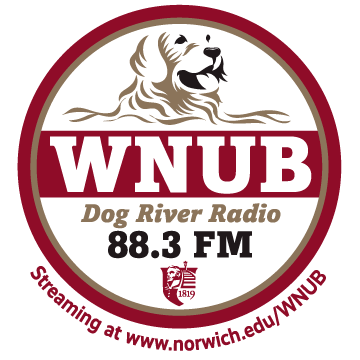 The station is staffed in the fall by students enrolled in Broadcasting Techniques (CM 211) and in the spring by students in Radio Production (CM 351). Students record and manipulate audio with the ease and proficiency of professionals using Adobe Audition Software.
Operating 24 hours per day, seven days per week with 270 watts of power transmitted from a tower atop Jackman Hall, WNUB-FM serves the campus and greater Northfield communities year-round as a noncommercial, educational FM station, licensed by the Federal Communications Commission in Washington, D.C. Simian, a computer-based automation program, makes possible the continuous broadcast of music, news, information and other programming during times not convenient for student participation. WNUB-FM programming includes:
live broadcasts of select Norwich University and area high school sporting events
prerecorded interviews with Writer Series authors, campus and community leaders, and local public-service organizations
live and recorded coverage of events like Norwich convocation and graduation
Northfield's annual Town Meeting and Labor Day weekend celebration
WNUB Public Inspection File. 
For assistance or further information, please write to Doug Smith.