Leadership Academies - Two Centuries of Developing Leaders
There has never been a greater need for leaders who serve in the government, non-government, private, and global sectors. Norwich's Leadership Academies will provide pathways to these sectors by focusing on the citizen soldier concept.
Corps and Civilian Leadership Pathways
The Corps of Cadets and the Reserve Officer Training Corps (ROTC) programs offer high-quality leadership training for students pursuing that pathway. However, some students may choose not to be commissioned into the military or may decide they want to find alternatives to serve the nation. These students and the university's civilian students, with an acute desire to serve our country and the world, can develop leadership competencies that add value to their degrees and increase the likelihood of career success. 
One Vision, Two Unique Academies
To help these students achieve these goals, Norwich has developed two unique academies – Government Service Leadership Academy (GSLA) and Global Leadership Academy (GLA). 
These academies develop new leaders of strong character who are ethical, innovative, inclusive, and ready to lead in military, federal, private, and NGO environments. These academies run in parallel and align with the Corps of Cadets core leadership competencies. This alignment provides a seamless transition for Corps members in their 3rd year if they choose not to pursue a military commission or for any civilian student to join from their 1st year through the beginning of their 3rd year. 
The GSLA and GLA focus on pathway opportunities for tuition assistance, fellowships, and internship programs. The academies leverage existing Norwich curricula supplemented by competencies developed through participation and engagement in co-curricular and extracurricular activities.
The Government Service Leadership Academy (GSLA)
The mission of the GSLA is to develop the Norwich student to enter the government workforce ready to help our nation compete with the dynamic trends in technology and innovation to protect national security and stay ahead of our global competitors. These competency development opportunities emphasize a leadership skillset suitable for federal, state, and local government service in agencies.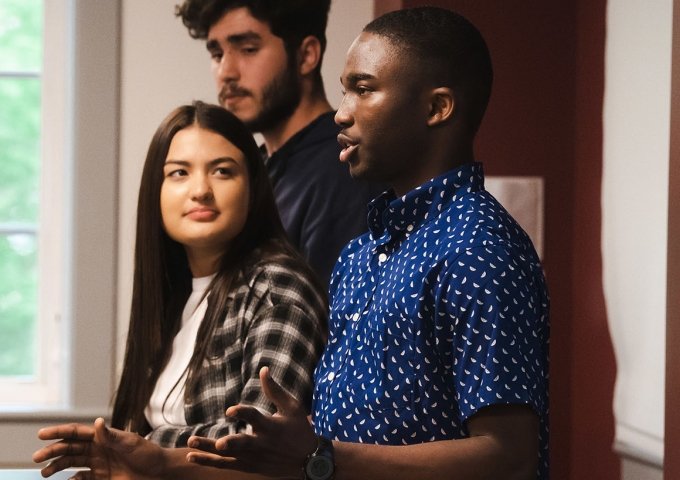 The Global Leadership Academy (GLA)
The mission of the GLA is to prepare Norwich students for lifelong success as employees, owners, and innovators in the dynamic global economy. These competency development opportunities emphasize a leadership skillset to transform the economic engines and global marketplaces in diverse sectors such as investment banking, healthcare, law, cyber, and engineering.