School of Business
Get dialed in for dealmaking
School of Business
Study business and prepare to lead. Whether you want to direct a large organization or a small team, a degree from Norwich's School of Business will prepare you. Our flexible programs prepare majors prepare entrepreneurs to go to market and budding leaders to guide businesses large and small. We'll teach you to understand finance, economics, stock market dynamics and organizational management. Our graduates enter ready to ask the questions and design the systems that reshape workplace cultures and change markets.
"To give our youth an education that shall be American in its character – to enable them to act as well as to think – to execute as well as to conceive – to tolerate all opinions when reason is left free to combat them – to make moral, patriotic, efficient, and useful citizens, and to qualify them for all those high responsibilities resting upon a citizen in this free republic."

First Published — 1843 Catalog
"A First Try at ROI"
30 and 40 years postenrollment, Norwich ranked in the top 7 percent for best net present value among the 4,529 schools ranked in Georgetown University's "A First Try at ROI" study.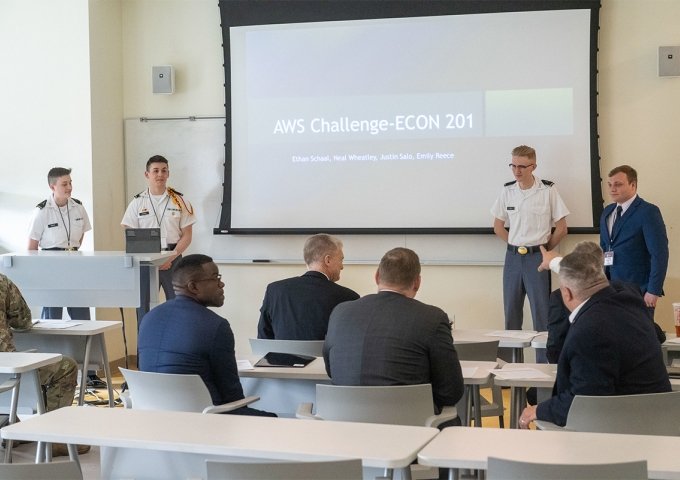 School of Business hosts the Amazon Web Services Business Challenge
Norwich was excited to host the inaugural Amazon Web Services Business Challenge and collaborate with AWS, Volkswagen and our Board of Fellows. The competition drew students from a wide variety of academic programs, highlighting the multidisciplinary nature of the program was both challenging and rewarding for everyone who took part.
Accreditations - School of Business
School of Business Contacts
Location: Mack Hall 309A 401 | 1 (802) 485-2223 Director David Blythe | dblythe@norwich.edu Office Manager Jessica Amell | amellj@norwich.edu